Thordon SXL offers the lowest coefficient of friction, superior adhesive wear performance and good resistance to wear resulting from third particle abrasion.
Thordon Turbine Shaft Guide Bearings offer:
Long wear life and lower maintenance costs mean lower life-cycle costs
Eliminates pollution risk – no complicated oil or grease system required
Superior customer service means quick delivery and less downtime
Full-cycle technical support includes system design, machining, installation and after-sales service
Certification to ISO 9001:2008 ensures consistent custom and stock solutions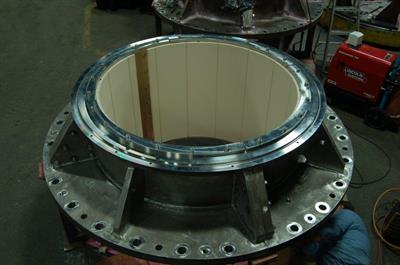 Thordon bearings can be specified as an upgrade for rubber or other non-metallic bearings in existing water-lubricated bearing systems or as a complete conversion from sealed oil or grease lubricated systems to pollution-free water lubrication.
Although elastomeric in nature, Thordon bearings, particularly SXL are stiffer than rubber and capable of supporting higher loading. A high degree of resilience, however, is still maintained and running clearances similar to rubber are possible.
Thordon main guide bearings are usually supplied factory-bonded into split bearing housings, or on larger diameter shafts, onto multiple segment blocks. Thordon bearings can also be supplied in stave configuration if required.
Thordon turbine guide bearings with tapered key design offer:
Reduced bearing renewal time - takes hours instead of a week
Time and money savings from not having to re-babbitt
No complicated oil or grease system requirements
Ease of access and maintenance - shaft seal can be positioned above guide bearing